How to Increase Your Vertical Jump
One of the more common requests from the athletes we work with is assistance with their vertical jump. Whether it be an athlete who wants to know how to jump higher in basketball or volleyball, or an athlete preparing for the fitness testing typically seen in football draft camps or combines, they are all looking for ways to improve their vertical jump.
In this article, we will share some background information and then a specific recommendation we make to all athletes committed and serious about how to increase their vertical jump test and are willing to do the necessary work and exercises to make them jump higher.
In order to improve vertical jump measures, an understanding of the two types of vertical jump forms is important. These are the Vertical Jump Test and the Maximum Vertical Jump.
The Vertical Jump Test
The "vertical jump" or "vertical leap" is an important measurement of sports performance. There are two basic forms for the "vertical jump test". The most commonly encountered vertical jump test is the "Standing Vertical Jump" in which an athlete is not allowed to move into the jumping motion, and instead they must jump from a stationary position. This is the format most often encountered in football combines and draft camps as well as in volleyball camps and trials.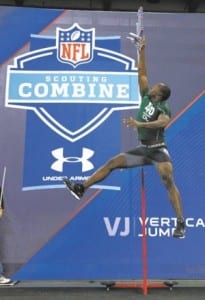 The highest Vertical Jump Test ever recorded, at least that we are aware of, was 46″ (!) by Gerald Sensabaugh at the 2010 NFL Combine. We were not at that year's Combine but people are STILL talking about it!
The other form of vertical jump that is routinely measured or discussed is the run-up or "Maximum Vertical Jump." This is the form typically seen in basketball and usually involves a run-up approach. Professional basketball player Kadour Ziani, from entertainment squad Slamnation, has reportedly been measured with a run-up vertical jump of 61″.
Vertical Jump Exercises
In reality, ANY activity involving jumping provides an ample variety of exercises to increase vertical jump height. By simply playing basketball or volleyball constantly and at a high level one will naturally develop the necessary muscles and neurological reflexes to make them jump higher. However, if one wishes to realize significant improvements in their jumping ability, with focused effort and a tailored vertical jump workout, in as few as 12 weeks most athletes can realize an additional 10 inches of vertical jump height.
If you are nearby (or willing to travel to see us) and are interested in this performance enhancement work, please contact our office for a consultation. We will perform a comprehensive evaluation of your strength, endurance, nutrition, and flexibility as well as your injury history. Then working with our exercise physiologist and physical therapy staff we will develop a comprehensive exercise and nutrition and rehabilitation strategy to increase your vertical jump.